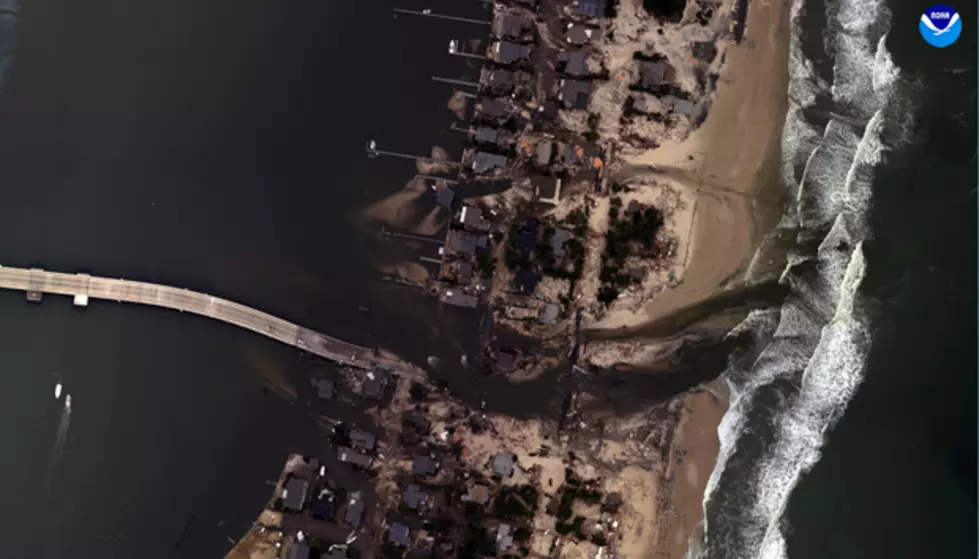 Could NJ Sandy Victims Get Tax Relief?
Aerial view of Mantaloking after Superstorm Sandy (NOAA)
Today is the deadline to submit your 2012 tax returns. A bipartisan group of congressmen is marking the day by renewing the call for tax relief to the victims of Hurricane Sandy, many of which are still rebuilding in the wake of the devastating storm.
In a letter to Speaker John Boehner, the bipartisan group of 32 lawmakers from the affected region urged the speaker to support tax relief legislation in line with the principles of the Hurricane Sandy Tax Relief Act of 2012.
U.S. Reps. Bill Pascrell, Jr. (D-NJ) and Frank LoBiondo (R-NJ) are leading the Garden State's congressional delegation on the issue.
"Congress took action in each of these cases by helping these devastated communities recover, using well known and understood tax provisions to target relief for families and communities and to finance rebuilding. One key example of the tax relief provided was waiving the high threshold for individuals to claim losses to their personal property, such as damage to their homes and cars, from these natural disasters," wrote the congressmen. "This tax relief helped speed the recovery for millions of American families who were hurt through no fault of their own."
 Individual Assistance
New Jersey would get the following help through the legislation:
Waiver of Adjusted Gross Income limitation for theft/loss deduction, so individuals can deduct the cost of uninsured losses.
Increase the limitation on charitable contributions for disaster relief.
Look-back Provision for Child Tax Credit and Earned Income Tax Credit, to allow a family in the affected region to opt to use their previous year's earnings to calculate their Child Tax Credit and Earned Income Tax Credit.
Allow taxpayers whose principal place of residence is in the Hurricane Sandy Disaster Area and who suffered a loss from Hurricane Sandy, to take distributions from retirement savings accounts with no tax penalty, provided such amount is repaid within three years.
Help For Businesses
Assistance for businesses impacted by Sandy would include:
Allowing businesses to expense the cost of disaster recovery.
Allowing businesses to use Net Operating Loss to recover past tax payments or reduce future tax payments, if they are operating with no tax liability during the prescribed period.
Increase in new markets tax credit for investments in community development entities serving Hurricane Sandy disaster areas.
Allowing public utilities to reduce their tax liability when rebuilding or replacing assets damaged in the storm.
Work Opportunity Tax Credits for displaced workers.
"Hurricane Sandy was the second-costliest natural disaster in the history of our country, and its victims in New York, New Jersey, Connecticut and across the region seek relief consistent with that which Congress provided to other areas of the country when they have faced similar hardship," wrote the lawmakers. "One of the main roles of government is the protection of its citizens, and our constituents still need help."
More From New Jersey 101.5 FM