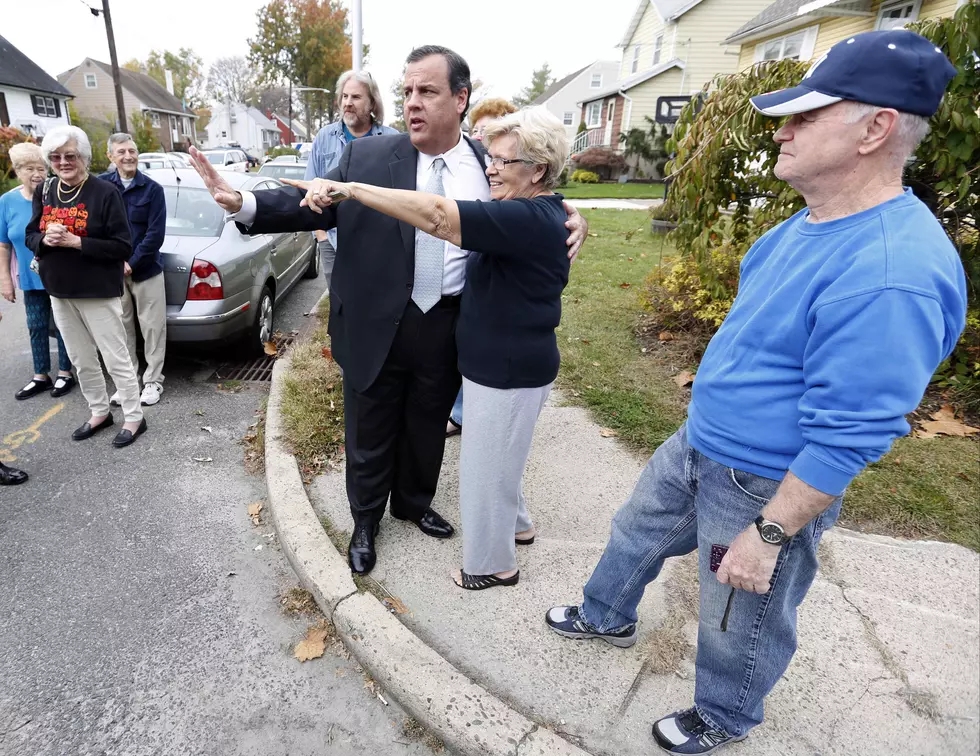 Could Hurricane Joaquin help Christie's low poll numbers?
Gov. Chris Christie talks with Gloria Kooman and other residents while he pays a visit to the home of Frank and Deborah Smith to talk with volunteers, who are helping to rebuild the Smith's home. (Governor's Office/Tim Larsen)
Could a hurricane like Joaquin give a boost to the sagging popularity of GOP presidential candidate Chris Christie on the campaign trail?
Some believe it might, because this latest hurricane threat has once again thrust Gov. Christie into the spotlight as the "take charge" leader of the Garden State. The last time this happened, after Superstorm Sandy almost three years ago, Christie's approval numbers and his popularity skyrocketed.
But Rider University Political Science Professor Ben Dworkin doesn't expect the hurricane Joaquin situation to really help Christie much.
"During Superstorm Sandy, Gov. Christie's actions sent a message that he was a take charge kind of guy," Dworkin said. "But it's hard to capture lightning in a bottle twice, so I'm not sure it's going to do anything beyond reinforce what people already know about him."
Dworkin said people across the nation already have a sense Christie is a brash, take charge guy, but so far the polls indicate he hasn't been what they're been looking for in a presidential candidate.
"It's going to be hard to re-capture the Super Sandy moment. Really what you want is to have a government that's working, what's most important is that things not get screwed up," Dworkin said.
He said if there are problems during or after Joaquin, it could wind up hurting Christie's image.
"If people are stranded, if services aren't being fixed quickly when they go down, then the government, and the governor by extension, are going to be held responsible," he said.
According to Dworkin, it's important for Christie to stay in Jersey during the storm threat – because it wouldn't look good if something bad happened as a result of the storm and Christie was in another state campaigning.
More From New Jersey 101.5 FM