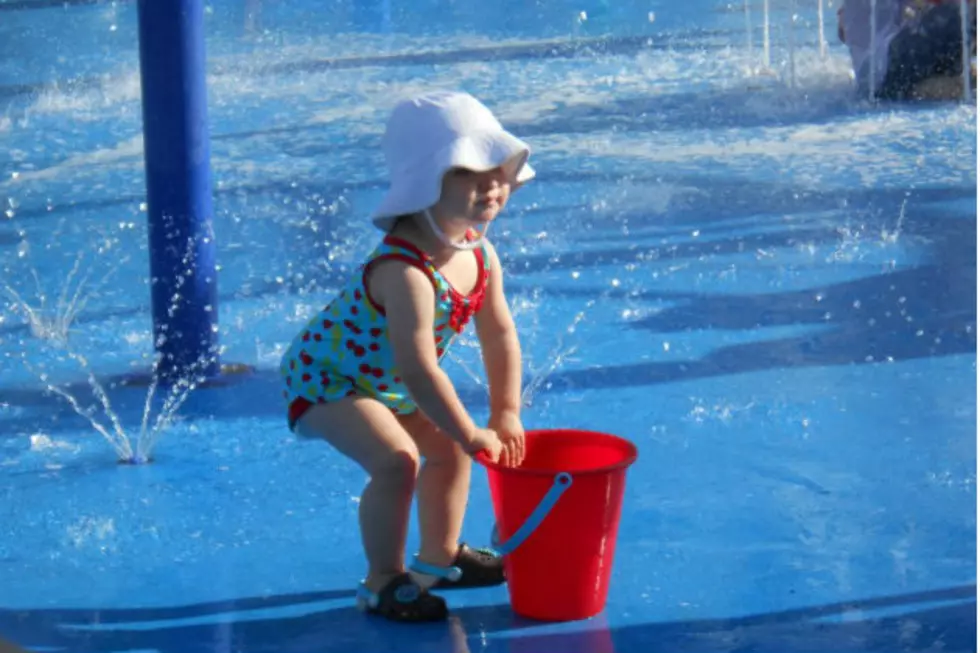 Best free NJ spraygrounds and splash pads this summer
Best free NJ spraygrounds and splash pads this summer (Erin Vogt, Townsquare Media)
When raising a family in New Jersey, there's not enough ways to emphasize how great it is to find spots for "free" summer fun. There are some great public spray grounds, splash pads and splash parks in Jersey where you and your kids can beat the heat.
Update June 2021: Here's the latest on which parks are open, charge admission and more
Keep this list handy, so that as the mercury spikes, you'll know where to go. And, before that first sprayground trip, stash a couple buckets, pails and a change of clothes in the car as your go-to supplies for the summer!
Ponderosa Park (Scotch Plains)
This sprinkler park and playground is a popular one in Union County. The spot is along Cooper Road in Scotch Plains, close to Fenimore drive. It's also available for group parties.
Veterans Park Spray Park and Playground (Monroe)
This Middlesex County spray park is within Veterans Park in Monroe (on Avenue K). It's right next to a playground and some picnic tables.
Dorbrook Recreation Area Sprayground (Colts Neck)
Monmouth County has upgraded the Sprayground in Colts Neck! Improvements include a cushioned surface and new water filtration system.
Manalapan Recreation Center Splash Pad (Manalapan)
Monmouth County does have another free option: The Manalapan Recreation Center has a splash pad. It's a large facility, with athletic fields, courts and playgrounds. The township offers the following directions, "Splash Pad is next to Field L (behind Field 9) on the expansion property."
Van Saun Park splash pad (Paramus)
You could easily spend a whole day here. The splash pad at Harmony Playground is just one attraction at this massive recreation area. For the playground, the park entrance from Continental Avenue seems most direct.
The entire Bergen County park spans nearly 150 acres with playgrounds and picnic spots, plus Bergen County Zoo, a small train ride and a carousel (those will cost you to use).
Warinanco Park Sprayground (Roselle/Elizabeth)
Union County runs four spraygrounds, including one at Warinanco Park. The bustling park tucked between Roselle, Elizabeth and Linden also has a lake with paddle boats, athletic fields, paved trails and a track (which I remember well from my high school cross country meets!).
There's also splash pad areas in Elizabeth at Phil Rizzuto Park, right across from Kean University and at Mattano Park along 5th Avenue. Cedar Brook Park in Plainfield also has a county-run sprayground.
Snyder Avenue Park splash pad (Berkley Heights)
Here's a place for devoted Gang Green fans in the off-season! The Jets donated a goalpost sprinkler to Snyder Avenue Park's sprayground in Berkeley Heights. There's also athletic fields and a team-neutral playground, (ha!).
Michael Lepp Park (Somerville)
Somerset County has a free splash pad in Somerville at Michael Lepp Park. There's also a playground, picnic area, bathrooms and a pool for paying residents.
Pirate's Cove at Turkey Brook Park (Flanders)
Morris County has a green-minded splash pad. Pirate's Cove features interactive water features that are motion-activated, to help conserve water.  Towering above, a huge splash bucket dumps water every few minutes. The park is in the Flanders section of Mount Olive.
James J Braddock North Hudson County Park splash pad (North Bergen)
This Hudson County park is another massive rec area where you could splash for a while and spend the day. It also includes a castle themed-playground, picnic areas, nature trails, athletic fields, bocce courts and a dog run.
Polifly Park Splash Pad (Hackensack)
Hackensack has this splash pad (with a 'dumping' water bucket) alongside a playground, picnic area and bathrooms. It's off Polifly Road, near Sutton Avenue.
Newport Green (Jersey City)
Newport Green serves as a sun-and-sand oasis amid the concrete bustle of Jersey City. Aside from the sprayground, there's some lounge chairs in a stretch along the waterfront. The park also includes a seasonal carousel and outdoor ping pong.
Pine Lake Park & Playground (Mancester Township)
This park in Ocean County features a Splash Pad, playground, covered picnic areas and restrooms. The township website pinpoints it at the shoreline of Pine Lake, adjacent to Lake Drive.
Borough Park Sprayground (Elmwood Park)
This Bergen County spot is nestled amid a playground, baseball & soccer fields and a basketball court. It's at 500 Boulevard in Elmwood Park.
Fasola Park Splash Pad (Deptford)
This splash pad in Gloucester County is at Charles Fasola Park in Deptford.  It's alongside a playground, athletic fields, tennis courts, a pavilion and a lake with a fountain.
---
You'll need cash to cool off at these:
There are also NJ spraygrounds and splash parks that charge admission. Fees range from a few bucks to a bit more!
Asbury Splash Park (Asbury Park boardwalk)- Splash Park Day Rates: Child $9, Adult $5, and Family Pass (2 Adults & 2 children) $20
Bridgeton City Splash Park (Bridgeton)- $3 a person, per 2 hour session. It's in Cumberland County, next to the Cohanzick Zoo.
Splash Pad at Michael J. Tighe Park (Freehold)- $4 Children 14 and under, $3 Adults. Open only on weekends as of June 2017 (seasonally).
Waterworks Aquatic Complex (Princeton Junction)- Almost 20 bucks per adult/child, varying by day and age.
Randolph Park Beach (Randolph) - This Morris County spot is open to paying non-residents on weekdays this year. Weekend and holiday admission is for members and Randolph residents.
Don't hesitate to share your favorite "splashy" spots in New Jersey and family fun photos by tweeting me @ProudJersey and at @NJ1015!
---
Proud Jersey Girl Erin Vogt's first reporting gig involved her Fisher Price tape recorder. As a wife and momma of two kiddies, she firmly believes that life's too short to drink bad coffee.  A fan of the beach, Dave Grohl and karma, in no particular order.
Follow her on Twitter and on Facebook as ProudJersey.
More From New Jersey 101.5 FM