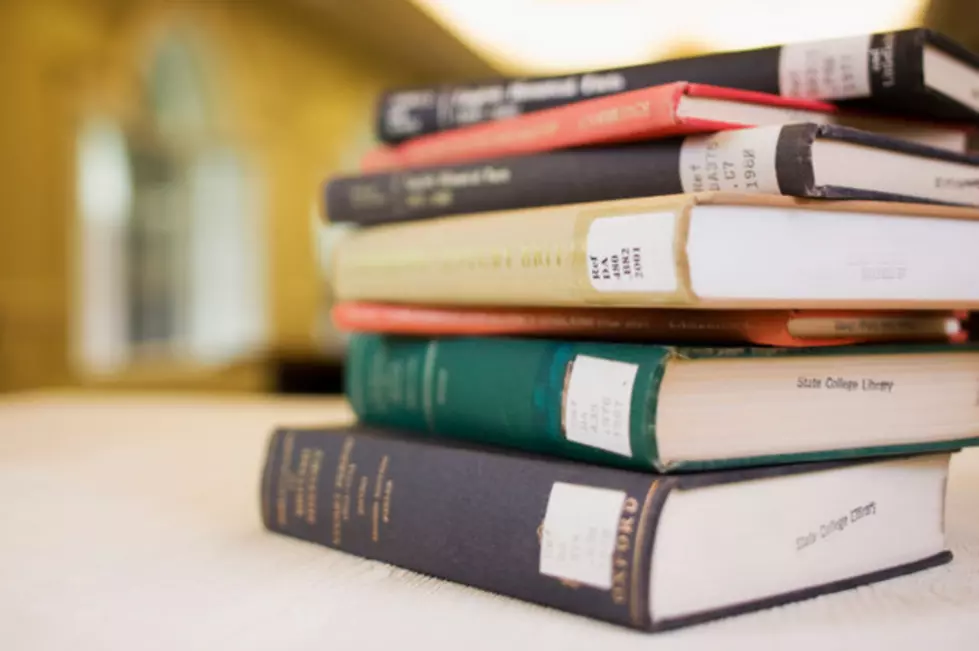 South Jersey seniors breathe new life into old tomes at bookbindery
(Fuse/Thinkstock)
ATLANTIC CITY, N.J. (AP) — Tucked into a third-floor room in a brick building in Atlantic City, a small group of people is saving history.
Or repackaging it, at least.
In the workroom of Myriam's Dream Bookbindery, senior citizens bind, cut and print books to make them close to new. The bindery is located in the BERON Jewish Older Adult Services of Atlantic and Cape May Counties Inc. building on Atlantic Avenue.
The core group of about 10 volunteers work for churches, synagogues and school districts, says bookbindery coordinator Emmy Todd. The seniors even bind together newsletters from Crestwood Manor, a senior living facility in Manchester Township.
Most projects come from individuals wanting dog ears removed and history-worn covers of their family books repaired. Bibles and other religious books top that list, although cookbooks, dissertations and manuscripts also come across their desks.
All the volunteers are age 55 and older. Some say they do it for the challenge. There are between eight and 13 steps - depending on the person you talk to - to bind a book. Sometimes hours of work stretch through weeks.
Others do it for the love of books, the same love that motivates people to want to give their books a second life.
With ebooks and other new technologies, there aren't quite as many people looking to preserve their books these days.
"You see school budgets shrinking, and (repairing books) isn't a priority," Howard Rosenfeld told The Press of Atlantic City (http://bit.ly/1G9bpVr). He's been a volunteer for the past five years and is a member of the BERON Jewish Older Adult Services board.
It was a funeral that brought Sue Stryker to the bookbindery for the first time.
She ran into Todd at her father-in-law's funeral. Todd asked Stryker if she was retired. The former art teacher and director of special education for the Pinelands Regional School District said yes.
"I went through an informal training session," says Stryker, 67, of Galloway Township, who started volunteering with the bookbindery in 2011. "I worked in schools for 30 years. Kids just aren't careful with books," she said. "Most of the books we see are covers that are coming off, or writing in the margins."
Usually, volunteers take classes at the bookbindery to learn the various stages of disrepair and the steps to reverse them. Stryker instead shadowed different volunteers for a few weeks.
She ultimately settled in with Ruth Gold, the "expert printer" of the group. Stryker learned how to arrange the hot-type letters used for printing covers - upside-down and in reverse order - so they appear properly on the pages and book covers.
Gold died two or three years ago, after losing a battle with breast cancer, Stryker said. Two photos of her grace the wall behind Stryker's workstation, bookends to the hundreds of letterpress symbols and the hot press.
Letters and symbols are arranged by size. Some a large enough for Stryker to pinch between her thumb and forefinger. Small ones require extraction with a long pair of tweezers. One of the most expensive pieces of equipment she works with is a set of bronze Hebrew letters.
The fall and winter months are the slow season, until summer comes and schools send out dozens of books to be repaired at a time. In the down time, Stryker brings out her acrylic paints every so often and leads whoever's volunteering that day through an impromptu painting lesson.
"For every customer, you can see their books are precious to them," she said. Stryker admitted she has a Kindle at home, but said she appreciates a good printed product.
Sam Marziano says he loves a challenge.
When he was a tool designer for the federal government through the Vietnam War, Marziano helped develop technology to help soldiers operate the AR-15 semiautomatic rifle.
He took those tinkering talents to the bookbindery when he started in 1990, when the organization was still in its original Ventnor location. At the time, volunteers hand-grooved the binding - making space for threads that would keep the pages together - using a hack saw.
Marziano did that one better: He built a groover at home, which saws six indents into the binding at once. He's created other tools to help the restoration process, including narrowing the blade that cuts book pages. Instead of lasting through one year, Marziano claims his five-degree change has extended the life of the blade for several years. It was last changed on Sept. 7, 2011.
On March 30, Marziano returned to the bookbindery after suffering a stroke. The man who used to walk four miles around the Links at Brigantine Beach can now trudge through two. But he said he's not ready to slow down.
"Life is full of surprises, good and bad," said Marziano, 89, of Brigantine. "When you get something bad, it's a challenge."
He's got a record of some of those challenges around his workspace in the bookbindery. Before-and-after pictures of his favorite projects surround the corner of the bindery where Marziano keeps his tools. He spent 40 hours - not at once, mind you - reworking a rough, roughly 1,600-page Bible.
He's always got an inspirational quote to share, such as, "Reading is the source of knowledge," and, "If it was built, it was made to be fixed." He tries to meld the two sentiments into one, lending his expertise to customers in need of a good book.
"They show me their book, and I show them what I've done," he said, waving a wizened hand across the photographs. "Their reaction when they get it back, 'Is that my book?' it's worth a million dollars."
Copyright 2015 The Associated Press. All rights reserved. This material may not be published, broadcast, rewritten or redistributed.
More From New Jersey 101.5 FM