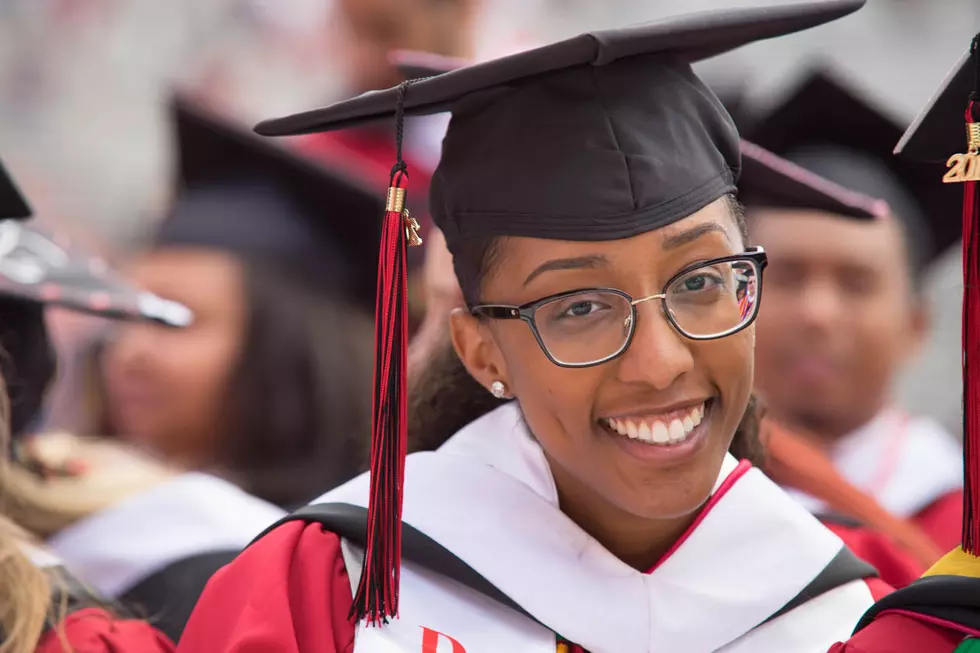 Rutgers commencement photos: 2016 ends a 'fantastic' run
Rutgers University celebrated its 250th Anniversary Commencement with a packed High Point Solutions Stadium and President Barack Obama as the official commencement speaker May 15, 2016 (Louis C. Hochman / Townsquare Media)
Note: These are just the first few batches of photos from NJ1015.com! Check back often Sunday and Monday for more.
Excitement built as Rutgers graduates filed into High Point Solutions Stadium for the school's 250th commencement Sunday, which featured President Barack Obama as as the keynote speaker.
Graduates said that despite the tight security, traffic and ticketing restrictions, they were looking forward to their big day.
Jean Pierre Zreik, political science major, described Obama's speech as "an honor."
"It was almost an inconvenience because I have five people in my family including me, but I was able to get an extra ticket," graduate Jean Pierre Zreik said ahead of the speech.
"JP" plans to attend Rutgers Law in August and hopes to one day work at one of the big firms. He described Rutgers as a "fantastic" and "diverse" campus.
Hallie Earl, a management major with a minor in Spanish, admits that the commencement preparations were hectic but the ticket issue wasn't a problem for her family since she also has a sister graduating from Rutgers. She said she's looking forward to the president's speech.
"I'm really excited though it was a bit of a headache. Rutgers handled it the best they could," said Earl, who already has a job lined up after graduation.
Earl said she was in class when students received the news of Obama coming to the ceremony. She said her professor stopped the lesson so the students could discuss the president's upcoming visit.
A second generation Scarlet Knight, Earl said her father also graduated from Rutgers. She said she's "proud to be an alum" and "couldn't speak highly enough of this school."
Efua Bolouvi, a biology major, considers getting the chance to hear a sitting president give this speech "a blessing."
"My sister goes to school at the Newark campus, I'm happy that she and my parents will get to see him talk."
Originally from west Africa, Bolouvi found her time at Rutgers "productive."
"It's a big campus, but you find your comfort zone with the people who share your interests," said Bolouvi, who will be exploring her options next year in the medical field at Robert Wood Johnson.
Brandon Lyons, a criminal justice major, thought that the Obama announcement "was a joke at first." He didn't believe it. He has underclassmen friends who paid $100 for a ticket to see the speech.
"As cool as it will be to see a sitting president, it's a long day," he said. They requested that grads be here by 9 a.m., the ceremony is at noon, then his school ceremony is at 3 p.m. "It's great but it's like an eight-hour day."
Kylie Moore contributed to this report.
Toniann Antonelli is a social content producer for NJ 101.5. She can be reached at toniann.antonelli@townsquaremedia.com, or on Twitter @ToniRadio1015.