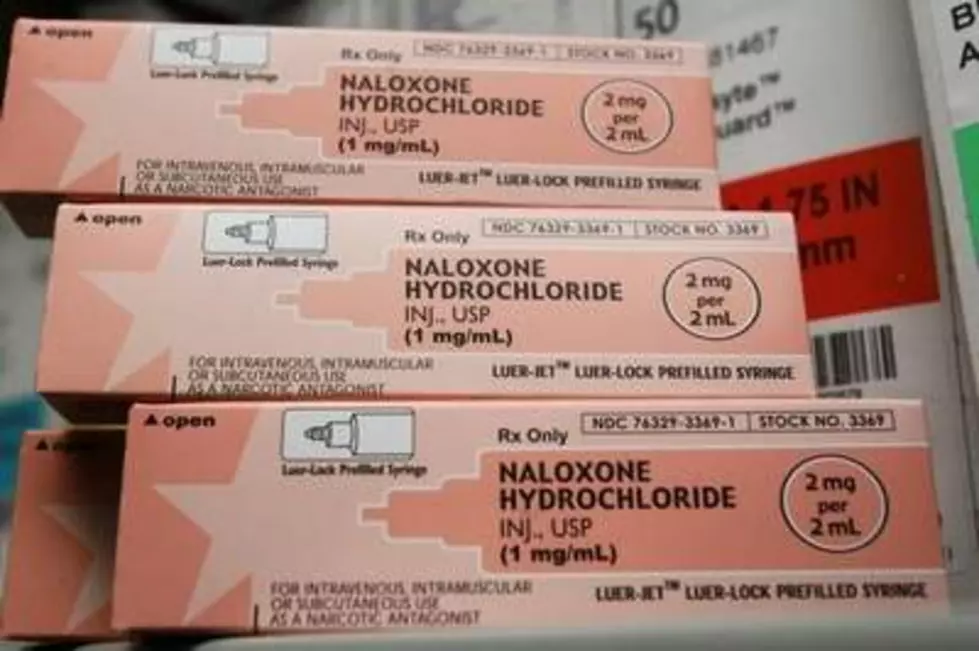 Free Narcan kits, training offered through January
Photo credit Ocean County Prosecutor's Office
Since September, 237 residents in Ocean and Monmouth counties have learned how to use the nasal spray Naloxone, or Narcan, to prevent opioid overdose deaths.
The residents have taken advantage of a free Narcan training and distribution program offered by Neptune-based JSAS HealthCare, Inc. (for Jersey Shore Addiction Services), one of a handful of groups funded by a state grant.
According to JSAS statistics, the majority of participants in the program identify themselves as family members of addicts. That's exactly who Ed Higgins, CEO and director of JSAS, said the group is trying to reach.
"To be honest with you, going into this, that was the audience I was looking to attract," he said. "I mean, we'll accept active addicts, we'll accept people in treatment, etc., but family members, we get calls all the time who are dealing with this or trying to deal with this. We have many parents, in particular, who are saying to us at the end of the training, 'You know, we came here not knowing whether we had this problem at home, but now we know and we need to do something about it.'"
Higgins said, before JSAS trains people on how to use Narcan and distribute the opioid antidote, the group provides comprehensive training about drug addiction. That includes an explanation of what addiction is, how to recognize addiction, and how to speak with an addicted loved one.
"I love to go to the trainings, because I watch people's faces, and to see changes as the light goes on and then -- after the fact -- the Q&A that we have," Higgins said.
Training has been offered since September at the JSAS facility in Neptune Township, as well as in Parkertown, Forked River, Toms River, Brick and Lakewood. Of those who have participated, 33 people identified as addicts seeking training to help themselves.
The program also offers vouchers for 30 days of free substance abuse treatment. Higgins said so far, 28 of those vouchers have been redeemed.
"The voucher gets them at least started," he said. "We can do a really comprehensive evaluation. There's three or four different ways of people getting treated for this type of a problem. So getting them inside, versus them standing on the outside, gives us the advantage."
JSAS HealthCare, Inc. will be offering free Narcan kits and training in Ocean and Monmouth counties through the month of January. There's also a training program available through the Ocean County Prosecutor's Office on Tuesday at 6 p.m. at the Holy Trinity Lutheran Church in Brant Beach, through the HOPE Sheds Light nonprofit.
JSAS Schedule:
Thursday, Jan. 15 -- Toms River Elks #1875, 600 Washington Street, 6:00 p.m.
Monday, Jan. 26 -- Ocean Mental Health Services, 160 Route 9, Bayville, 6:00 p.m.
Thursday, Jan. 29 -- VFW Post 8867, 373 Adamston Road, Brick, 6:00 p.m.
Every Wednesday in January -- Seashore Family Services of NJ, 35 Beaverson Blvd., Bldg. 6 Suite A, Brick, 6:00 p.m.