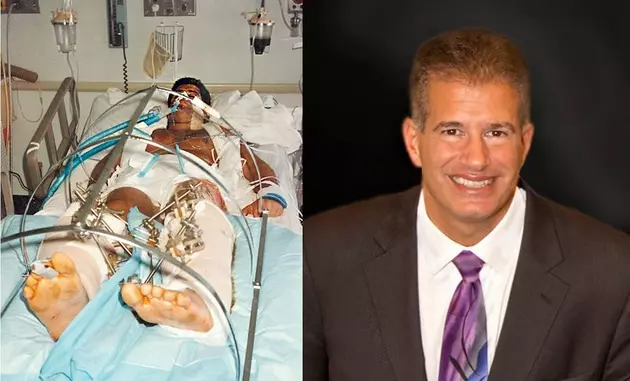 Crash survivor: Require ignition devices for ALL NJ drunk drivers
Steven Benvenisti was hit by a drunk driver as a college senior. Today, he assists drunk driving victims as a personal injury attorney. (Photos provided by Steven Benvenisti)
He was unconscious for two weeks, hospitalized for six months and was never expected to survive after the college senior was run down by a repeat drunk-driving offender.
But Steven Benvenisti recovered 100 percent, and decades later, the Upper Saddle River resident remains devoted to keeping drunk drivers off the road. Today, drunk driving victims take up a large chunk of his practice as a personal injury attorney in Teaneck.
Under current law, the devices, which can keep a vehicle's engine from starting if alcohol is detected in the driver's system, are required for repeat offenders and first-timers with a blood alcohol concentration of .15 or above.
"That law is not strong enough," said Benvenisti, a member of Mothers Against Drunk Driving's New Jersey and national chapters.
According to MADD, ignition interlocks have stopped more than 39,000 would-be drunk drivers in New Jersey from starting their vehicles since the beginning of 2010.
Benvenisti pointed to an immediate reduction in the number of drunk driving fatalities in several states that already have a law in place requiring the devices for all those convicted of driving while intoxicated.
Under the bill, sponsored by Democratic state Sen. Nicholas Scutari, the required period of installation would vary based on the driver's BAC at the time of the incident.
But as a trade-off for automatic installation of an ignition interlock device, the measure also decreases the length of license suspensions for drunk driving and refusing to submit to a breathalyzer test.
Depending on BAC, suspensions would be shortened from three months to 30 days and from seven months to 45 days, for example.
Gov. Chris Christie conditionally vetoed a similar measure in 2015, claiming it was too lenient. In that bill, the license suspension for first-time offenders was cut to 10 days.
More from New Jersey 101.5:
More From New Jersey 101.5 FM