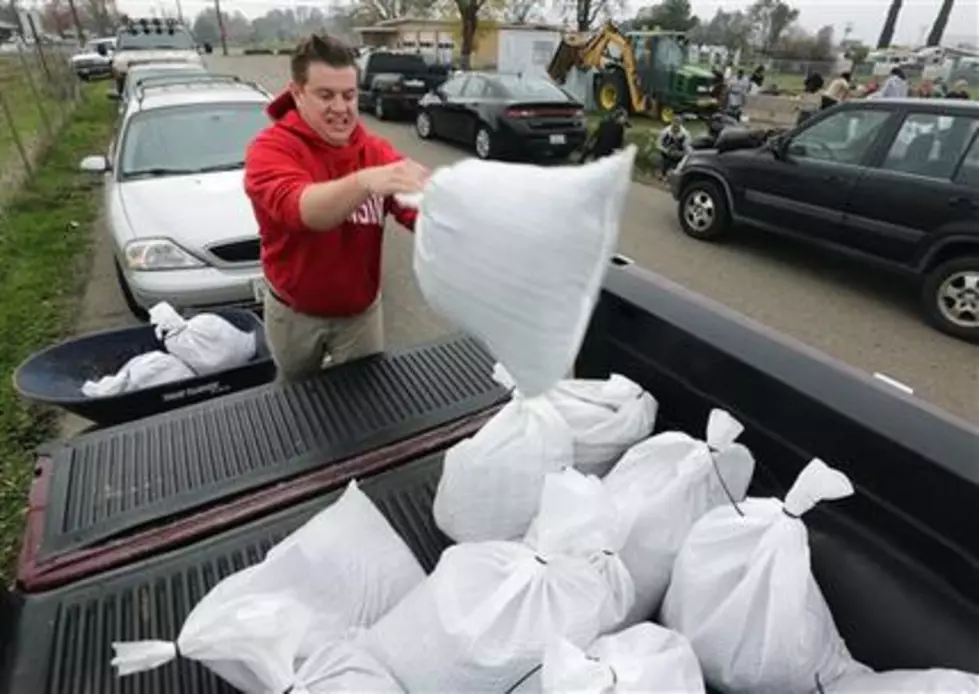 California storm knocks out power, delays flights
Mike Whitesone tosses a sandbag onto his pickup truck in the Sacramento suburb of North Highlands, Calif., Wednesday. (AP Photo/Rich Pedroncelli)
SAN FRANCISCO (AP) -- A storm expected to be one of the windiest and rainiest in five years swept across the San Francisco Bay Area on Thursday, knocking out power to tens to thousands and delaying travel by air, train and ferry.
Pacific Gas & Electric is reporting outages are widespread across the Bay Area due to weather, but officials weren't immediately available to give a specific number of outages.
A spokesman for Bay Area Rapid Transit says a PG&E transformer appeared to have malfunctioned near the system's Montgomery Street station. Jim Allison said the station has been shut to both BART trains and trains from the city's Muni transit system and there's no estimate on when it will reopen.
High winds canceled some ferry service east of San Francisco. At least 10 ferry departures around the region were canceled Thursday due to weather conditions, the San Francisco Bay Ferry reported on its website.
One rider was taking it in stride early Thursday.
"I know it's a big storm supposedly but they're treating it like it's a hurricane," said Malcolm Oubre, a Vallejo resident heading to work as an administrative assistant in San Francisco. It's just "lots of rain, lots of wind."
Brief gusts of wind blasted the Golden Gate Bridge and high waves were crashing.
Some flights arriving at San Francisco International Airport were facing delays averaging three hours and 40 minutes, The Federal Aviation Administration reported on its website.
The storm could cause debris slides, especially in areas affected by this year's intense and widespread wildfires. Big waves are expected along the coast, and ski resorts in the northern Sierra Nevada could get more than 2 feet of snow.
More than 4 inches of rain was reported in Sonoma County before dawn, and flood warnings were in effect for points along the Russian and Navarro rivers in Mendocino County and the Eel River in Humboldt County, the weather service said. Some tree damage and roadway flooding was reported.
As much as 8 inches of rain could fall on coastal mountains over a 24-hour period, the weather service said.
"It's a short amount of time for that amount of water," forecaster Diana Henderson said. "We are anticipating some localized flooding. maybe some downed trees and downed power lines. It could have an effect on a wide range of people."
Residents rushed to buy emergency supplies, with some stores running out of water, batteries and flashlights. Some cities announced on their Twitter accounts that they had no sandbags or sand left by Wednesday evening.
The storm is expected to later pound parts of Southern California before a weakening system moves east through Nevada, Idaho, Arizona and New Mexico. Those states could get rain and snow, but nothing like what California is expected to experience, forecasters say.
Public schools in several Bay Area cities, including San Francisco, Oakland and Berkeley, and some private schools canceled Thursday classes.
A wastewater truck crashed early Thursday into a 2,000-pound eucalyptus that had fallen along Interstate 80 east of San Francisco but the driver was not injured, the California Highway Patrol said.
Wind gusts of up to 70 mph were expected on mountain tops, creating possible blizzard conditions in the Sierra. Rain, pounding surf and gusty winds were forecast for Southern California starting Thursday evening.
In California's agricultural heartland, farmers were looking forward to the dousing after three consecutive dry years. Parts of the state have experienced above-average rainfall this year but not enough to make much of a dent in the drought.
James McFarlane, a third-generation farmer in Fresno County, said workers would have to stop picking citrus crops during the storm, but rain this time of year makes fruit bigger, allowing it to fetch higher prices.
"If we're not getting some Mother Nature-dictated time off out in the field, that probably means we're going to have a hard time finding surface water in the warmer months," he said.
The rain and snow in the Sierra Nevada fill reservoirs that supply irrigation water during hot, dry months.
Farther north, a series of strong weather fronts with high winds and heavy rains has led to flooding and landslides in western Washington.
Firefighters rescued eight people from two homes Wednesday evening in the small community of Brinnon about 25 miles west of Seattle after they were trapped by rising waters from a nearby river, officials said.
A mud and debris slide from a slope adjacent to the main rail line between Seattle and Everett has halted passenger train traffic until Friday evening, BNSF Railway spokesman Gus Melonas said.
On the southwest Washington coast, KING-TV reported that two houses collapsed into high water as the land beneath them eroded.
High winds were also forecast in Oregon.
More From New Jersey 101.5 FM