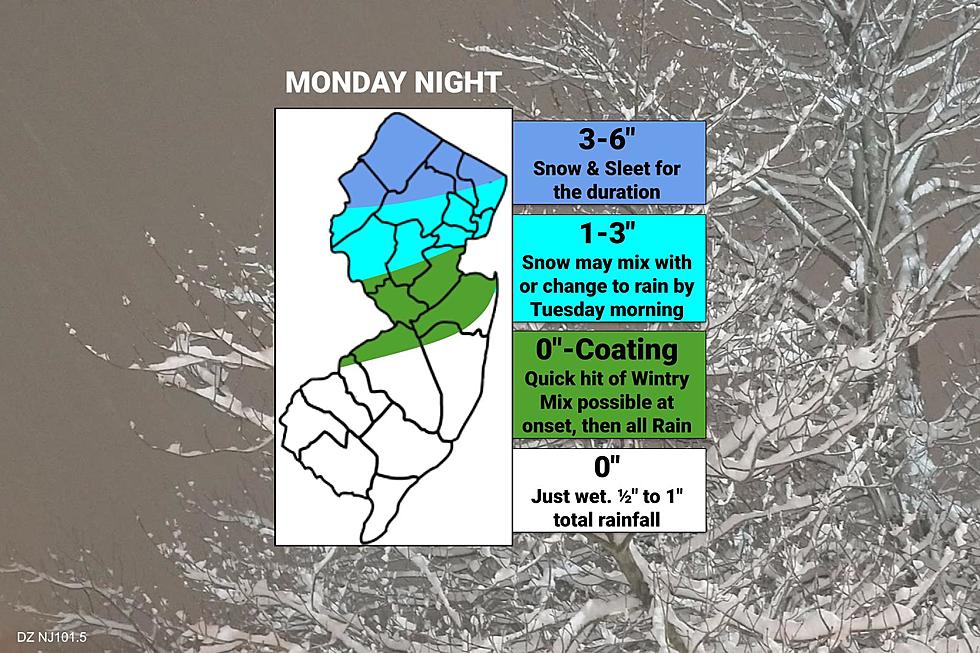 A whisper of winter: Latest update on sloppy, snowy weather for part of NJ
The latest forecast for Monday night's snow/ice/rain event, as of Sunday morning. (Dan Zarrow, Townsquare Media)
UPDATE... This article is outdated...
For the latest storm forecast information, please refer to my newest weather blog post.
---
UPDATE as of 4 p.m. Sunday...
🌡️ Latest models have trended slightly south and slightly warmer. That doesn't do much to the forecast I published this morning. Maybe lessens the possibility of going over 6 inches in NW NJ. And puts South Jersey rainfall totals close to an inch than a half-inch.
⏰ No change to the timing of the brunt of the storm, Monday night through Tuesday morning.
⬆️ This is really a "North Jersey Special" storm. It's going to be very hard for snow to stick and accumulate in central, coastal, and urban NJ. Not impossible though - it's all a matter of temperature.
👉 Bottom line: No seismic shifts in timing, totals, or impacts. Next complete forecast update can wait until early tomorrow morning.
---
ORIGINAL POST from 9:22 a.m. Sunday...
What?
This winter sure has been a dud so far. Due to prominent La Niña conditions in the Pacific Ocean, sustaining cold air has been squelched and snow chances decimated here in New Jersey.
Believe it or not, we have had four 2+ inch snow events in New Jersey so far this season. All of them minor. Each of them impacting North Jersey only. South of about Interstate 78, we are still waiting for the first inch of snow of the year.
Well, Jack Frost and Old Man Winter are about to come out of hiding. We have a legitimate wintry scenario setting up for Monday into Tuesday. And I expect this to be the fifth snow event of the season. Yet again, it is a "North Jersey Special". But it could turn out to be the biggest storm of the bunch, with a swath of 3 to 6 inches of snowfall looking likely. Just north of New Jersey, snowfall could approach the double-digits.
Because this winter storm could impact travel to work/school from late Monday through early Tuesday, it's time to start talking more seriously about it. This post will run through the timeline, the geography, and the impacts of the storm. And I will talk about what this magnitude of storm means for the average New Jerseyan. Unless things change dramatically, we will update this forecast one more time early Monday morning.
When?
Sunday stays quiet and mild. And Monday morning will start with increasing clouds and quiet weather.
Things will start to slide downhill Monday afternoon (after 1 p.m.), as an initial wave of showers arrives from the west. Light, scattered stuff initially.
After sunset Monday evening, we enter the "brunt" of the storm. The heaviest snowfall and rainfall will occur at night between about 8 p.m. Monday through 4 a.m. Tuesday. That will be the time of the most prominent impacts, ranging from reduced visibility to sloppy travel conditions.
Precipitation may linger through Tuesday late morning (by 10 a.m.) Skies will brighten and winds will calm through the afternoon. And temperatures will start a warming trend through Wednesday and Thursday.
Where?
Temperatures obviously play a huge role in who will see snow vs. rain vs. a little bit of both. And that includes both the temperature at the surface and up to a mile above your heads - that is where snowflakes are born.
This storm is especially tricky, due to the range of temperatures during the height of the storm Monday night. North Jersey will settle around 30 degrees - nice and cold, below freezing, certainly cold enough for snow. But South Jersey will be in the lower to mid 40s - well above freezing.
Aloft, it is the same story. Cold enough to the north. Not nearly cold enough to the south.
Therefore, an all snow situation will be limited to far northern New Jersey only, approximately along and north of Interstate 80. That's where we will see the biggest impacts and the most accumulation. (More on that in the next section.)
South of that, precipitation type becomes much hazier. I think we could see initial snowflakes and ice pellets as far south as Interstate 195. (At least for a brief time.) Sleet may actually be more prevalent than snow. An influx of warmer air early Tuesday morning will eventually force a transition to just plain rain.
Keep in mind, weather conditions (and road conditions) could still get quite sloppy in that middle zone Monday night. But this will not be a blockbuster, slobberknocker, stop-the-presses kind of storm.
South Jersey, this is not your storm. Monday night will be wet, not wintry.
How Much?
I estimate total snow accumulation of 3 to 6 inches in North Jersey. That is a "moderate" impact storm. Not high enough to warrant warnings and batten-down-the-hatches alarm bells. But it will be close to that level. We will probably see advisories issued at some point.
Between I-80 and the I-78 corridor, I estimate 1 to 3 inches of snow accumulation. Sleet and rain will keep those totals lower.
I have included the chance for a coating or dusting as far south as Burlington, Ocean, and Monmouth counties. I am concerned that an initial burst of wintry mix could make things slick Monday night. Then just wet by Tuesday morning.
For the most part, the southern half of the state (south of I-195) will just get wet. Total rainfall will likely end up between a half-inch and an inch. Not enough for flooding. But weather will be yucky and roads may still be slick.
So What?
If you'll be traveling through North Jersey late Monday night or early Tuesday morning, you may want to consider those plans very carefully. You may want to set your alarm clock a bit earlier for Tuesday, as roads may be treacherous and slow.
We are going to see salt and brine trucks around the northern half of the state on Monday, followed by plows hard at work in North Jersey early Tuesday. Please give them plenty of room to do their work. Treated roadways should fare pretty well during this storm, with temperatures close to the freezing mark. (No "deep freeze" this time around.)
Schools and businesses in the "snow zone" may opt to delay opening or close, although such a decision is not a "slum dunk" here. Honestly, administrators may pull that trigger even more quickly than usual, as school districts have plenty of "snow days" to burn after this quiet winter. And given the recent influx of norovirus, flu, and COVID cases, it might be wise to give the germs a day off from school too.
This is not a "bread and milk" kind of storm. You are not going to be marooned for days on end, needing to survive on french toast alone.
Confidence?
No forecast is complete without an assessment of confidence - how certain the forecaster is that a given situation will come true.
I do not see this storm turning into a complete dud - we are not going to escape without at least some wintry weather.
At the same time, I don't expect the snow forecast to skyrocket either. It is worth mentioning that some forecasts for the Catskills of New York put snowfall estimates as high as 10 inches. That is in a perfect heavy-precipitation, no-mixing situation. If temperatures trend a little bit colder, I could see snow totals in NJ ultimately exceeding 6 inches. That's probably my biggest "what if" of the current forecast.
I doubt we will have to talk about substantial snow and ice accumulations through central and southern New Jersey. But we still have two or three more forecast model runs to see if such a trend develops.
Final Thoughts?
I deliberately put the reality of this storm system in the headline of this post. Winter finally shows up in the final days of February, producing a combination of snowy and sloppy weather for part of New Jersey. We will not get buried. But North Jersey should at least stay alert to the forecast and changing weather conditions.
Our next storm system on Thursday looks wet only. The one after that, Friday into Saturday, could have another wintry component. Mainly for North Jersey again. We'll talk about that later in the week - one storm system at a time.
Dan Zarrow is Chief Meteorologist for Townsquare Media New Jersey. Follow him on Facebook or Twitter for the latest forecast and realtime weather updates.
Let it snow: 12 things to know about winter forecasting in NJ
First flakes: When does snow season start in NJ?
Final flakes: When does snow season end in NJ?
More From New Jersey 101.5 FM