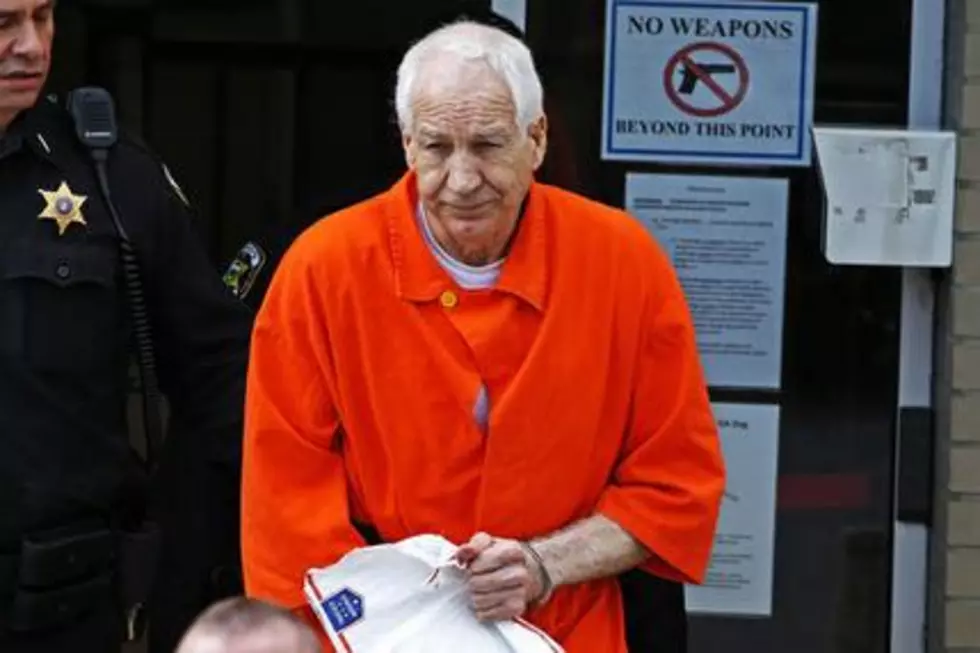 Jerry Sandusky presses appeal, wants to question witnesses
Former Penn State University assistant football coach Jerry Sandusky in Bellefonte, Pa., Monday, May 2, 2016. (AP Photo/Gene J. Puskar)
Jerry Sandusky's effort to get his child molestation convictions thrown out ran into tough questioning Monday from a judge who voiced doubt about defense lawyers are entitled to question witnesses -- including some of the former Penn State assistant football coach's victims.
Judge John Cleland pressed Sandusky attorney Al Lindsay about whether there is sufficient basis for him to allow an evidentiary hearing now, nearly four years after a jury found Sandusky guilty of 45 sex-abuse counts.
Sandusky, wearing an orange prison jumpsuit, took no active role in the hearing that lasted about an hour. On his way into the courthouse, he told reporters to "read what has been written."
The 72-year-old ex-coach is serving 30 to 60 years in state prison. He has maintained his innocence.
Cleland told Lindsay that hearings under the state's Post-Conviction Relief Act can't amount to fishing expeditions. The judge noted that a recent filing described some of the witnesses as hostile to the defense, so Lindsay doesn't know for certain how they will testify.
"The law is very clear. You have to give me a certification of, if I have a hearing, `Judge, this is who I'm going to put on the stand and this is what they're going to say,"' Cleland said.
Lindsay wants to be able to question lawyers who previously represented Sandusky, investigators, prosecutors, and a man who has claimed to be the person referred to by prosecutors as Victim 2.
Victim 2 was a key figure in the prosecution. His abuse at Sandusky's hands was the topic of critical testimony by another former Penn State assistant football coach, Mike McQueary.
Lindsay argued in a recent filing that prosecutor Joe McGettigan knew about the man who claims to be Victim 2 at the time McGettigan told jurors that the victim's identity was a mystery.
"That's a long way from saying that you've got a witness that's going to come in here and say (the man) was Victim 2, McGettigan knew it and lied about it," Cleland said.
Lindsay said many people involved in the case knew of the man's claim at that time, so McGettigan made "a false statement" when he said the man's identity was known only to God.
Lindsay also wants to delve into how news of the investigation got out in March 2011, when The Patriot-News of Harrisburg reported on the grand jury investigation. He also wants to probe defense team decisions to waive the preliminary hearing, to let Sandusky be interviewed on NBC by Bob Costas and to keep Sandusky off the stand during trial.
Jennifer Peterson, a prosecutor with the attorney general's office, told Cleland that "most, if not all" the arguments Lindsay is making can be addressed based on the existing record and do not require an evidentiary hearing.
Cleland did not indicate when he would rule.
The judge told Lindsay he raised some very important issues.
"My problem is that I don't know that you've got the witnesses to back them up," he said.
(Copyright 2016 The Associated Press. All rights reserved. This material may not be published, broadcast, rewritten or redistributed.)
More From New Jersey 101.5 FM