This Weekend in Music History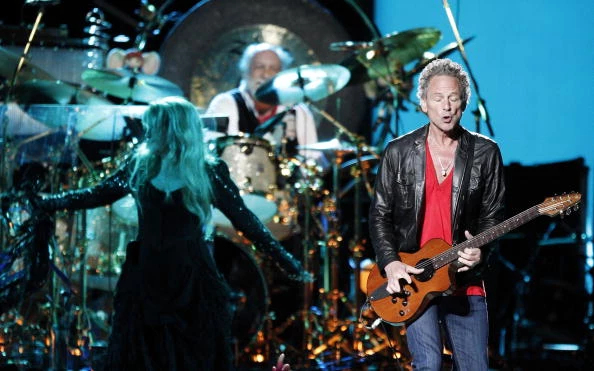 September 1st, 1980 – Fleetwood Mac plays a show at the Hollywood Bowl to end an 18-month world tour promoting 'Tusk', stating on stage that "this is our last show for a long time." They traveled extensively across the world, including the US, Australia, New Zealand, Japan, France, Belgium, Germany, the Netherlands, and the United Kingdom. It was on this world tour that the band recorded music for the 'Fleetwood Mac Live' album, which was released at the end of 1980.
August 30th, 1975 – KC and the Sunshine Band go to No.1 on the singles chart with 'Get Down Tonight', the group's first of five No.1 hits. The song was originally titled 'What you Want Is What you Get.'
August 30th, 1995 – James Taylor and Carly Simon perform together for the first time in over 20 years. They each played their solo set for 10,000 fans before combining acts in Martha's Vineyard, Massachusetts. It was all for a good cause, raising money for a local agricultural society.
August 31st, 1963 – The Ronettes enter the singles chart with 'Be My Baby' their only top 10 hit. Lead singer and original "bad girl" of rock n roll, Ronnie Spector, would eventually have to take ex-husband Phil Spector to court in the 90′s for unpaid royalties. She also enjoyed a resurgence in pop culture when Eddie Money featured her in his hit 'Take Me Home Tonight'. Money introduces her in the song with "just like Ronnie said…"
August 31st, 1990 – Jackson Browne, Stevie Wonder and Bonnie Raitt sang 'Amazing Grace' at a memorial service  for guitarist Stevie Ray Vaughan who had been killed in a helicopter crash 4 days earlier. According to a witness, there was reportedly haze and fog of varying intensity with patches of low clouds. Despite the conditions, the pilot was instructed to fly over a 1000-foot ski hill. Vaughan, along with three members of Eric Clapton's entourage, boarded the third of the four helicopters. At about 12:50 am the helicopter departed from an elevation of about 850 feet, veered to the left and crashed into the hill. All of the passengers, including the pilot, Jeff Brown, were killed instantly.
September 1st, 1967 – Boz Scaggs returns from Europe to join The Steve Miller Band. They had originally played together in their teenage years, but Scaggs had left to record a solo album in Europe. His stay with the Steve Miller Band was short lived, appearing on 'Children of the Future' and 'Sailor', but eventually choosing to go solo for good.
September 2nd, 1964  – The Beatles play a show at The Convention Hall in Philadelphia. There were race-riots days prior to the concert in Philly and The Beatles, who were strong civil rights supporters, are shocked to see that their audience of 13,000 is completely white.
September 2nd, 1972 – Brownsville Station, Canned Heat, The Eagles, and Foghat are just a few of the acts set to play over the next three days at the Erie Canal Soda Pop Festival.  It was held on Bull Island near Griffin, Indiana and over 200,000 fans attended.  Promoters had only planned for 50,000 and many bands withdrew from playing as the event slowly transitioned into anarchy. In the end, three people had drowned in the Wabash River and the stage was burned down on the last day by the remaining few fans.