Sweeny hopes Christie loses pension lawsuit [AUDIO]
Senate President Steve Sweeney (D-West Deptford) said he hopes public employee labor unions are successful in their lawsuit to stop Gov. Chris Christie from slashing the state's pension payment in the current fiscal year.  The case is set to be heard on June 25.
Audio clip: Adobe Flash Player (version 9 or above) is required to play this audio clip. Download the latest version here. You also need to have JavaScript enabled in your browser.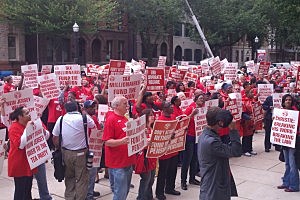 "I hope they win. I've said that on numerous occasions," said Sweeney. "This was a renege, a breaking of your word – whatever you want to call it."
The state was supposed to contribute $1.6 billion, but Christie now plans to pay only $696 million. If the court rules against Christie it would knock this year's budget out of balance and have the ripple effect of impacting the budget that begins on July 1.
According to Sweeney, in 2011 Christie wanted public worker pension and benefits reforms and the Senate President wanted the pension system to be funded. The governor got what he wanted, but now he's not holding up his end of the bargain Sweeney said.
Sweeney spearheaded the deal that requires New Jersey to make full pension contributions.
"Right or wrong, I knew when we were doing reform, I knew the ramifications of doing that. He knew the ramifications of signing them too," Sweeney said.
To keep the current year's budget and next year's spending plan in balance, Christie plans to slash the contribution to the public workers' pension system by almost $2.5 billion for the combined fiscal years.
"As to fiscal year 14, I am doing it through executive order," explained Christie in May when he announced his plan. "We only have a brief period of time left in the fiscal year so I will be executing an order. As to fiscal year 15, obviously there's a budget that still needs to be passed. This is how I am adjusting."
The governor insisted that he is meeting the state's true obligations by paying into the system only for active employees. While it didn't declare a fiscal state of emergency, his executive order stated: "I reserve the right to take such actions and issue such orders or directives as may be necessary to meet the various problems presented by this situation, to protect the health, safety, and welfare of the people of this state, and to ensure the continued provision of essential state services."