Severe Thunderstorm Watch issued for entire state
---
A Severe Thunderstorm Watch has been issued for the entire state as a line of slow-moving, intense thunderstorms heads for New Jersey  with strong gusty winds and the first effects of Hurricane Arthur.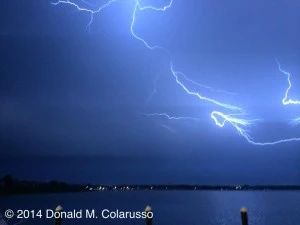 A line of storms that formed across central Pennsylvania in the afternoon arrived in New Jersey late in the afternoon bringing with it gusty winds, hail, frrequent lightning and heavy rain.
The storms moved southwest to northeast mainly affecting areas north and west of the New Jersey Turnpike and sparing the shore areas.
Over 40,000 lost power during the storms. 30,771 JCP+L customers, mostly in Warren, Morris,Passaic and Hunterdon counties were without power according to its outage map while 10,705 PSEG customers lost power, mostly in Burlington,Mercer,Somerset,Union and Middlesex counties.
The entire state is under a Flash Flood Watch starting at 4 p.m. until Friday afternoon as the storms that form along a cold front will interact with moisture from Arthur producing 1-3 inches of heavy rain according to meteorologist Alan Kasper. Streams and creeks already swollen from Wednesday's rain could overflow and areas of poor drainage could easily flood according to Kasper, who says the rain will end on Friday afternoon in time for fireworks displays at night.
Newark, LaGuardia and Kennedy Airports all have delays of 3-4 hours on arrivals according to FlightAware.com. Thursday was another hot and humid day with temperatures heading back around 90 degrees again with a heat index in the upper 90s and topping 100 in parts of central Jersey according to the NJ Weather and Climate Network at Rutgers University.
Mother Nature's fireworks show on Wednesday evening flooded highways and left 50,000 customers in the dark across the state at its peak. Power for most customers had their power restored by sunrise on Thursday but 1,589 PSE&G customers, mostly in Burlington County are still powerless according to the utility's outage map at 2 p.m.
Lightning strikes are also being blamed for several house fires across the state.Several families were left homeless in the Wyckoff Mills condo complex in Hightstown according to the Times of Trenton while 6 ABC reports a home in Edgewater Park in Burlington County was struck by lightning.  The Record reports lightning is being blamed for fires in Mahwah, Hasbrouck Heights and Wood-Ridge while  The Riverside Signal reports an abandoned home was struck in Beaachwood. Late Thursday afternoon Arthur was centered about 35 miles south of Cape Hatteras, North Carolina, and about 185 miles southwest of Cape Fear moving north-northeast at 13 mph with sustained winds of 90 mph. National Weather Service meteorologist Gary Szatkowski tweets that Arthur's track has shifted to the west bringing it closer to the New Jersey and Delaware coastlines taking it 130 miles off the Jersey shoreline. A National Weather Service briefing, however, says this will not have much of an impact on how Arthur will affect New Jersey.
Kasper expects Arthur to pass over the Outer Banks late Thursday night and speed out to sea. 
Many communities with fireworks scheduled for Thursday and Friday are postponing their display to Saturday or Sunday.
Alan Kasper predicts Saturday and Sunday will be sunny with temperatures in the 80s with gusty winds and a rough surf along the shore all weekend which could lead to restrictions for swimmers.
A High Surf Advisory has been issued for Friday thru Saturday morning for waves and surf up between 6-8 feet with dangerous rip currents Bob Brown of the Atlantic City Beach Patrol cautions lifeguards may allow swimmers to go only knee or waist deep into the rough waters.
Get the latest information on the tropical weather texting WEATHER to 89000.
NJ 101.5 SMS Alerts (Max 8msg/mth); T&C and Privacy Policy at 89000.mobi. Reply STOP to opt-out or HELP for help. Msg & Data rates may apply.
Dino Flammia contributed to this report.
MORE COVERAGE:
    The Associated Press contributed to this report
---