Jersey Sierra Club Boss Blasts Proposed DEP Budget [AUDIO]
The New Jersey Department of Environmental Protection has put forth its proposed fiscal year 2013 budget.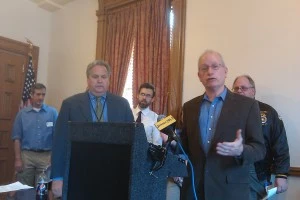 The head of the Jersey Sierra Club doesn't like what he sees.
Jeff Tittel says he's very concerned with several aspects of the proposed budget, including the fact that "they're going to be reducing staff in areas that are key to environmental protection and even economic growth because they're getting rid of people who write permits…and they're rolling back inspectors who enforce environmental laws which protect us from people who deliberately violate environmental laws, or dump toxins down a drain or throw garbage into a park."
He says 10 million dollars is being taken from the landfill closure fund and being put "not the general fund to help balance the budget- and so they're really robbing us to go fill a budget gap …they're taking money that's supposed to go to towns to clean up toxic sites, or to restore parks or forested areas – instead they're using it to pay for the destruction of trees by the Turnpike Authority and the Parkway down in south Jersey…there's a lot of bad things in this budget, but overall, I think the concern I have is that the budget is dropping, staffing is dropping- something's wrong in a state that has the environmental problems that we have, when you keep getting rid of people whose jobs are to help make our environment safer – protect our drinking water, clean our air…I find this budget to be more about spin than public policy."
Larry Ragonese, the DEP Director of Communications, doesn't agree.
He says staffing levels are down a bit…mostly through attrition…"and we are more than able to function with those numbers of people – especially because of the changes we've made with technology…we have really tried to make this place- finally be a 21st century operation – and so when you have those efficiencies, you can deal with smaller numbers without impacting our programs."
He says "we have actually added people for essential services- new forest fire wardens, new water conservation officers – people that we need in the field…it's been a constant lament that we don't have enough people and we'll be giving up our environmental control but that's not the case -it's 2012, there's new and better modern ways to do things…we're changing how we operate here at DEP – we're making sure that we know what our priorities are now."
Audio clip: Adobe Flash Player (version 9 or above) is required to play this audio clip. Download the latest version here. You also need to have JavaScript enabled in your browser.