Is NJ Worried About Sequester Cuts? [AUDIO]
Deep automatic spending cuts will kick at midnight tonight if lawmakers in Washington, D.C. and President Barack Obama cannot reach a deal to end the country's latest fiscal crisis.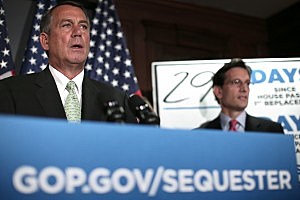 New Jersey, like every other state stands to lose plenty of federal aid, but the Garden State's top money man does not seem very concerned despite the fact that he's not sure exactly how much the state could lose.
"We don't have a specific number," says State Treasurer Andrew Sidamon-Eristoff. "We are working with all the agencies to make sure that they're planning for that. Quite frankly, at this point the agencies have indicated to us that they don't think the impact in the current fiscal year will frankly be that significant and maybe not that significant for the next year."
Assembly Speaker Sheila Oliver does not share the Treasurer's optimistic outlook.
"We are very concerned about sequestration," admits Oliver. "There's school aid. There's hospital aid that comes into this state…..There will be severe implications for counties and for individual municipalities."
Contingency plans are being pieced together according to Sidamon-Eristoff. Governor Chris Christie Fiscal Year 2014 State Budget plan includes money to act as a back-stop.
"If there is a funding gap for a small program, a critical program we'll have the resources available to meet an emergent need should it arise," explains the Treasurer.
The current stopgap federal government budget expires at midnight and Congress is required to pass a new spending plan for the rest of the fiscal year, which ends Sept. 30. Specific cuts can be altered or erased during that budget process.
U.S. Rep. Bill Pascrell, Jr. (D-NJ-09) is warning of the devastating impact sequestration will have on Sandy recovery efforts. In total, the sequester mandates across-the-board cuts of almost $1 trillion over nine years, 50-percent from defense and 50-percent from non-defense spending.
"Sequestration would be nothing short of a fiscal hurricane for the victims that have already been devastated by Sandy," says Pascrell. "If Congress does not step in with a plan to avert these cuts, about $3 billion will be slashed from the Sandy aid bill we fought so hard to pass last month. This manufactured fiscal disaster will add insult to injury to the many families and businesses that are still hurting across the region."
Audio clip: Adobe Flash Player (version 9 or above) is required to play this audio clip. Download the latest version here. You also need to have JavaScript enabled in your browser.