Excerpts from the 'Bridgegate' Emails
New Jersey 101.5 has obtained copies of emails exchanged by state officials before, during and after the unannounced lane closings at the George Washington Bridge between Sept. 9 and 13.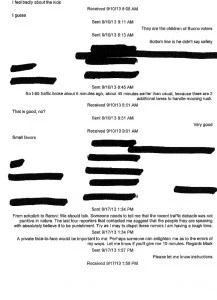 The thread begins with an Aug. 13 email exchange between Bridget Anne Kelly, Gov. Christie's deputy chief of staff, and David Wildstein, the Port Authority official who later resigned when it was disclosed that he ordered the lane closures.
Kelly's message reads: "Time for some traffic problems in Fort Less."
Wildstein's reply: "Got it."
The next message containing a possible reference to the lane closings appears in an exchange between the two officials on Aug. 28, in which Kelly, responding to a message from Wildstein, writes, "I'm online at bill van dyke's wake."
Wildstein ends that exchange by emailing Kelly: "Call when you have a chance re: Ft. Lee – can wait for tomorrow"
Sept. 7:  Wildstein emails Kelly, "I will call you Monday AM to let you know how Fort Lee goes."
Sept. 9:  An email to Bill Baroni (then Deputy Executive Director of the Port Authority, who has since resigned), cites an apparent plea from Fort Lee Mayor Mark Sokolich regarding an "urgent matter of public safety in Fort Lee."
In the copies obtained by New Jersey 101.5, there next appears an exchange of short messages on Sept. 9, beginning at 6:52 a.m. The senders' names appear to have been blacked out. These are the messages in that thread, with abbreviations and misspellings:
"Want to meet in parking lot?"
"Come in lobby I'm with bob.""Want me to pick you up? It's fkd up here."
"Around 7:30″
"Call me"
"I may hav idea to mak ths beter"
"Hudson terr south traffic has broke. Ft. lee from martha wash still heavy."
"I know"
"Rt. 95 approach traffic has broke. It is moderate at this time."
"Thx"
"All traffic has ended at 11:45am"
"Thanks"
"Rt 95 trafic brok"
"At 8:30?"
"Yup"
"Local ft lee trafic disaster."
At 8:04 a.m. on Sept. 10, there is a message described as "Sokolich text to Baroni" which reads:
"Presently we have four very busy traffic lanes merging into only one toll booth. . . The bigger problem is getting kids to school. Help please. It's maddening"
A minute later, there is this exchange of emails, with the senders not identified:
"Is it wrong that I am smiling?"
"No."
"I feel badly about the kids."
"I guess"
"They are the children of Buono voters."
A Sept. 17 email from Bill Baroni, apparently to Wildstein reads:
"We should talk. Someone needs to tell me that the recent traffic debacle was not punitive in nature. The last four reporters that contacted me suggest that the people they are speaking with absolutely believe it to be punishment. Try as I may to dispel these rumors I am having a rough time."