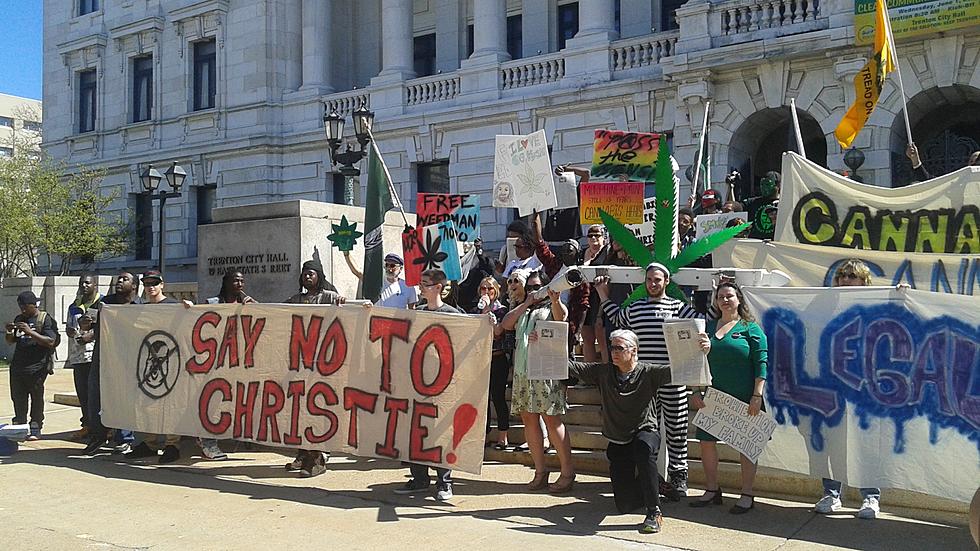 NJ Weedman arrested — but not at 4/20 smoke-fest at Statehouse
The third-annual 4/20 demonstration in Trenton. (Jess Frank/Townsquare Media)
About five dozen marijuana-legalization advocates gathered Wednesday afternoon outside the Statehouse. They counted down the seconds to 4:20 p.m, when many pulled out joints and blunts, lit up in plain sight of police officers and puffed away.
But the one man many expected to be front and center during New Jersey's demonstration on 4/20 — the unofficial national marijuana day, which is marked by mass demonstrations where participants light up — was nowhere to be found.
That's because Ed Forchion, better known as NJ Weedman, was arrested a day earlier — apparently on a warrant for nonpayment of child support, according to his Facebook page. New Jersey 101.5 was unable to confirm Wednesday afternoon because Trenton police could not be reached for comment. But some of the demonstrators carried signs reading "FREE WEEDMAN."
New Jersey 101.5's Jessica Frank was on scene and reported that plenty of officers were around the event — which began at Weedman's restaurant by City Hall and concluded after a march to the Statehouse steps — but none made arrests despite the distinct odor and plumes of marijuana smoke over the crowd. Nobody was arrested during the previous two 4/20 demonstrations in Trenton, either.
Jess spoke with Michael Chazukow, the Libertarian Party candidate for council in West Milford, who was at the 4/20 demonstration in Trenton to advocate for decriminalization. He believes municipalities can take steps to reduce marijuana-related arrests.