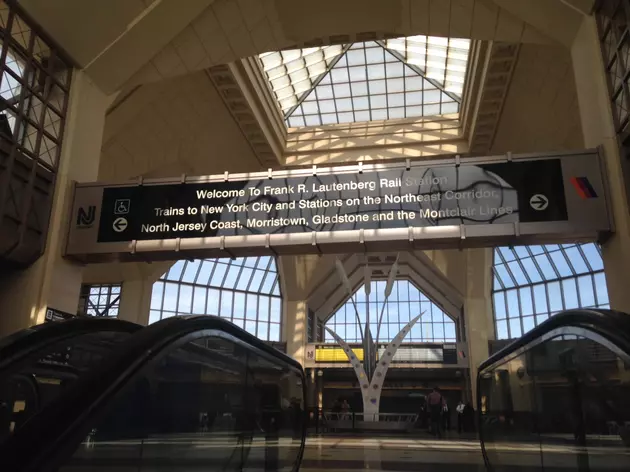 NJ Transit rail workers holding rally as contract talks continue
NJ Transit's Frank Lautenberg Rail Station in Secaucus (David Matthau, Townsquare Media NJ)
With talks set to continue on Monday to head off a strike by NJ Transit rail workers, the coalition of employee unions will rally in Woodbridge on Saturday.
The rally is scheduled for Marion & Norman Tanzman Park across from the Woodbridge NJ Transit stop at 11 a.m. State Senator Joe Vitale and Woodbridge Mayor John McCormick are among those scheduled to address the rally intended as a show of solidarity for the unions and to bring attention to a strike that would begin at 12:01 a.m. on Sunday, March 13.
The leadership of the NJ State AFL-CIO is urging its members to attend the rally in support of members of the Sheet Metal Air Rail and Transportation Workers, or SMART, union.
"Please take time to support our brothers and sisters and NJ Transit commuters," NJ State ALF-CIO posted on its website. "Wear your union colors. Show your union pride. Our hardworking brothers and sisters from SMART Transportation Division and their families need our union solidarity more than ever."
Vitale aid he plans to let workers know that he supports them and that the wages that they are asking for along with a small increase in health benefits is appropriate.
"I hope that NJ Transit and the unions can come to terms with what seems to be the last hurdle, which are benefit contributions and health benefits," Vitale said. "The rally will demonstrate, from my perspective, the unions are serious about resolving this."
The two sides met in front of the National Mediation Board on Friday in Washington D.C. Stephen Burkert, general chairman of SMART-Transportation Division Local 60,  called the day-long session "productive" and said both sides "moved a little."
NJ Transit spokeswoman Nancy Snyder didn't comment on Friday's negotiations other than to confirm that the parties will meet again on Monday in Newark.
Michael Phelan, president of the NJ Commuter Action Network, came to the defense of NJ Transit interim general manager Dennis Martin and said that "having been ignored and disrespected by (Gov. Chris Christie), the plan that NJ Transit has put together is likely the best that an underfunded and demoralized agency can do."
NJCAN said that they support the call by the Star Ledger and Gannett Newspapers of New Jersey for Christie, who recently abandoned his presidential bid and has since backed Donald Trump, to resign because the governor "remains absent from his job while these negotiations have been allowed to break down."
"Every extra dollar I give them comes from you," Christie said on Ask the Governor. "There's no magic money tree that we take this money off of. It's gonna come from fares and taxes."
Christie wouldn't speculate on whether he believes a strike will take place.
"My job is to let my negotiators negotiate," he said. "No one's goal is to have a strike here."
Toniann Antonelli and The Associated Press contributed to this report
More From New Jersey 101.5 FM