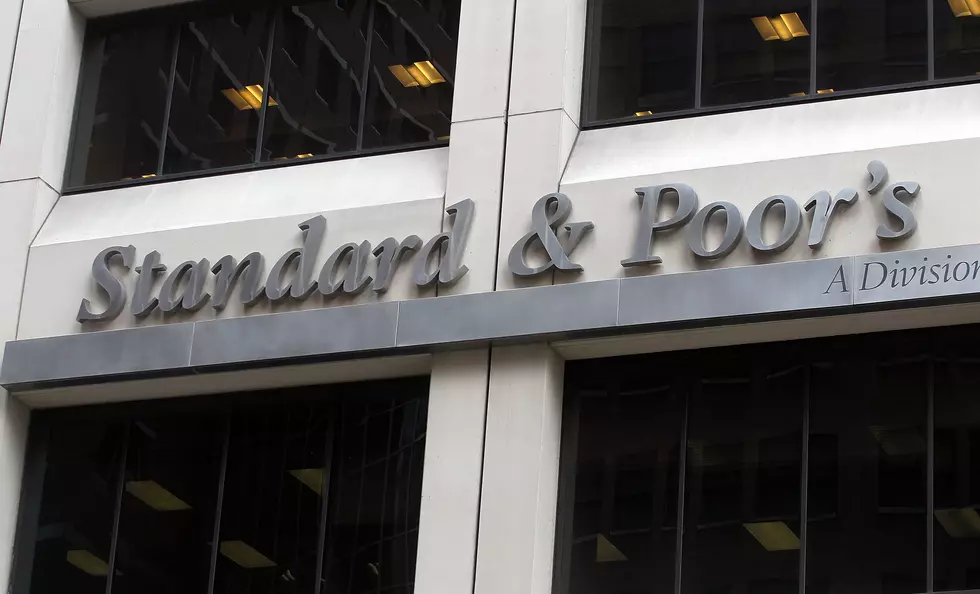 NJ Outlook Now Negative Says Rating Agency
Mario Tama, Getty Images
Standard & Poor's has lowered its outlook on New Jersey from "stable" to "negative."
The rating agency says the downgrade is based on the state's continuing budget woes and revenue projections for the Fiscal year (FY) 2012.
S&P has not revised its ratings on the state's general obligation bonds or other debt, citing New Jersey's credit-worthiness and commitment to repaying its debt obligations, but warns a future downgrade is possible.
S&P credit analyst John Sugden says, "We revised the outlook to reflect our view of the risk of revenue assumptions we view as optimistic, continued reliance on one-time measures to offset revenue shortfalls, and longer-term growing expenditure pressures."
Democrats were falling over one another to blast Governor Chris Christie.
Assembly Democratic Leader Lou Greenwald says, "The downgrade is because of his policies and because of the recklessness of his projections on these numbers (revenues) it will ultimately end up costing taxpayers more…..This isn't someone rooting against New Jersey as the Governor likes to say. Their (S&P's) sole responsibility is to analyze the potential and projections of governments like New Jersey."
Treasury Department spokesman Andy Pratt says, "It is gratifying that all three agencies have now affirmed the ratings on New Jersey's debt. We believe investors will find S&P's arguments to be out of step and its basis for revising New Jersey's outlook unconvincing, particularly in the face of the continued growth in New Jersey's economy and state revenues."
On September 14, Fitch affirmed the state's rating and declared the outlook stable. Monday, Moody's affirmed and declared the outlook stable as well.
"New Jersey already has one of the lowest credit ratings in the country, and S&P is warning that Governor Christie's fiscal policies could lead to a further downgrade," says Democratic State Senator Barbara Buono. "It's not just the revenue estimates that are inflated: S&P also flagged the Christie administration's increasing reliance on one-shot, non-recurring revenues to balance its budgets, as well as expected increases in future pension, Medicaid and debt service costs."
Christie did not address the downgrade at his latest town hall yesterday and not a single Republican lawmaker issued a statement on the issue.
State Senate Budget Committee chairman Paul Sarlo says, "The Governor's fiscal practices are putting New Jersey at risk of a credit downgrade, which would cost taxpayers untold millions or even billions of dollars. The administration's repeated insistence that revenues are performing in line with their inflated projections is now bordering on the absurd. Forget Alice in Wonderland, this administration is now stepping dangerously close to Wizard of Oz territory."
S&P also assigned a negative outlook to nearly $400 million in outstanding construction bonds and notes for school facilities but kept its A+ rating.
More From New Jersey 101.5 FM