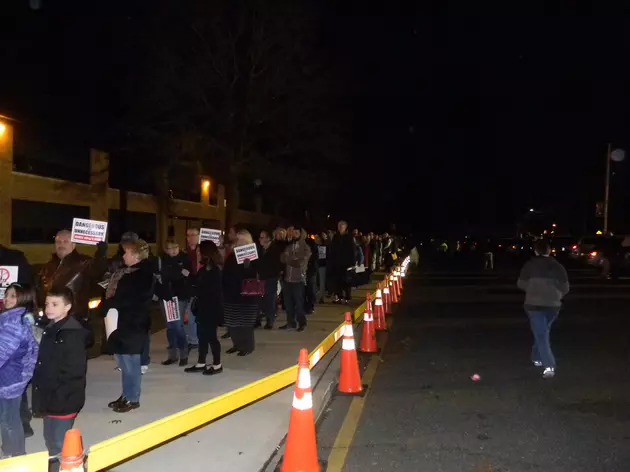 Monmouth County residents flood public hearing on proposed JCP&L project
A line of residents, attempting to enter the public hearing on JCP&L's power line plan, wrapped around much of Middletown High School North. (Dino Flammia, Townsquare Media NJ)
MIDDLETOWN -- More than 1,200 seats were available Wednesday night for a public hearing on Jersey Central Power & Light's massive system upgrade proposal in Monmouth County, and that wasn't enough.
Hoping to eventually gain access to the hearing inside Middletown High School North and voice their opinions on the proposed Monmouth County Reliability Project, a nearly 10-mile, 230-kilovolt transmission line along NJ Transit's North Jersey Coast rail line right-of-way, local residents waited outdoors for hours.
Despite it being billed as a public hearing, the four-hour event did not feature true public commentary until 9:40 p.m., when a 9-year-old girl urged Administrative Law Judge Gail Cookson to rule against the project.
Besides arguing the high-voltage lines would be "very, very ugly," Hannah Rose Gorsegner said she fears the potential health effects from radiating electromagnetic fields.
"We should get to grow up and buy homes in nice towns," she said. "But with JCP&L towers, growing up will not be an option for some Middletown kids."
Her younger sister is two years cancer-free, following a years-long battle with the disease.
According to the World Health Organization, short-term exposure to very high levels of electromagnetic fields can be a health hazard. But there is no evidence to conclude that exposure to low levels, as would be the case with routine power lines, is harmful to human health.
The link between electromagnetic fields and cancer remains highly controversial, WHO says. While a number of studies have pointed to an increased risk of leukemia in children with exposure to low frequency magnetic fields in the home, a direct cause-effect link has not been solidified.
The first couple hours of the hearing featured comments from local lawmakers and the parties involved in a legal battle over the project, including grassroots organization Residents Against Giant Electric (RAGE) that formed eight months ago in response to JCP&L's proposal.
"JCP&L is not asking to run this through no man's land," said RAGE member and Middletown resident Rachel Kanapka. "They're asking to run it through 10 miles of densely-populated neighborhoods, alongside four elementary schools, seven public parks, two senior living communities, a nature conservancy and within the public right-of-way of an active transit rail line into the biggest city in America."
Kanapka called the proposal a threat to public safety, public welfare and public health, and said it defies common sense since "a new transmission line is not needed in the first place."
"Putting a high power line on a transit route is kind of like an accident waiting to happen," added Middletown resident Charlie Carpenter, who lives about 200 feet from the proposed installation site, in a conversation with New Jersey 101.5.
The New Jersey Chamber of Commerce, NJ Alliance for Action and a local union leader spoke in favor of the project.
Mayors of the handful of towns that would be affected, plus representatives of their boards of education, pleaded that the project be scrapped by JCP&L or rejected by the court.
"The fact is we explored 17 different routes, and the route that we selected and talked about tonight is the best route because it has the least environmental impact to the area," said Todd Schneider, a spokesman for First Energy, parent company of JCP&L. "At the same time, it can provide Monmouth County residents with more reliable service."
More than 100 people were still waiting to access the high school at 8:45 p.m. Prior to that, some attendees were turned away outside, according to members of RAGE.
Judge Cookson said she's unaware of whether another public hearing will be scheduled. Other hearings in April, at which JCP&L is scheduled to make its case for the $111 million project, will not accept comments from the public.
More from New Jersey 101.5:
More From New Jersey 101.5 FM