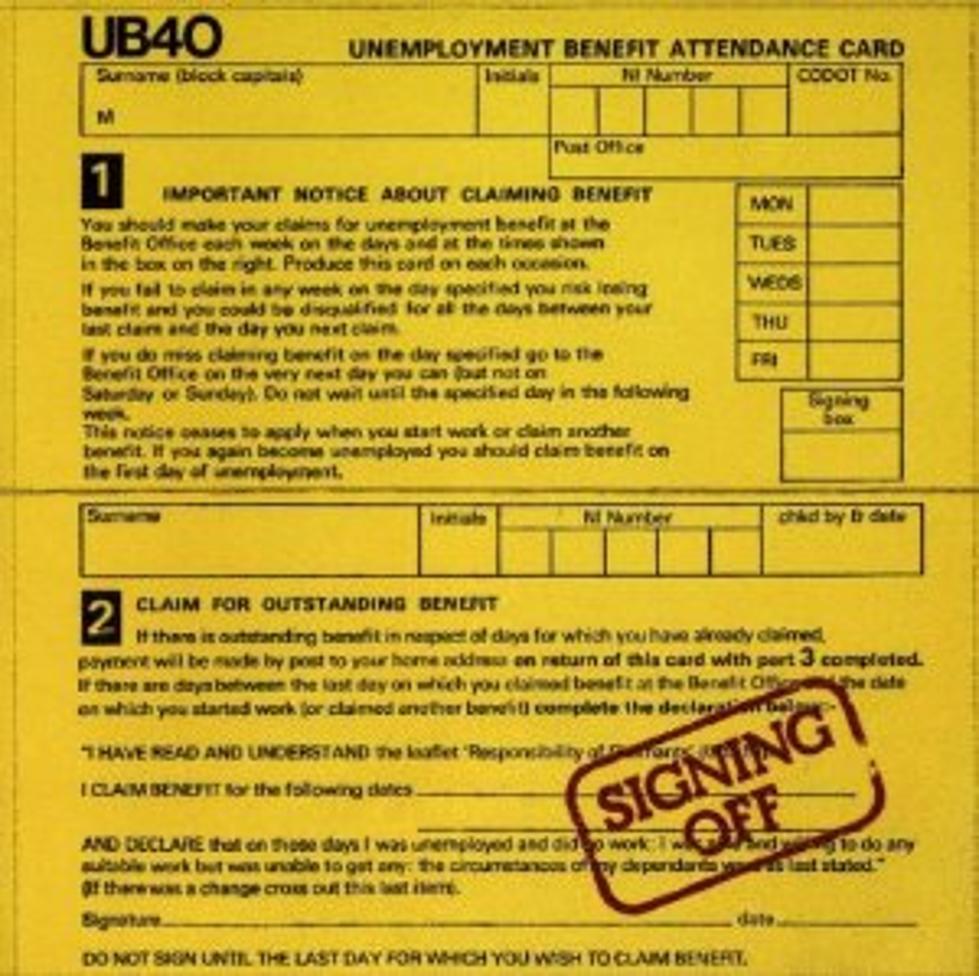 Meet UB40 [PHOTOS, VIDEOS]
"Signing Off" album cover, 1980. (amazon.com photo)
UB40 are a reggae/pop band formed in Birmingham, England in 1978. The band has had more than 50 singles hit the charts in England, and has had several international hits. But what may be most interesting is where the band got its name...
The (8)  guys in the band all started out as friends who knew each other from various schools around Birmingham (England).  And, its quite an ethnically diverse group, with musicians of English, Scottish, Irish, Yemeni and Jamaican ancestry. Their sound was influenced by the many blues parties that they attended as teenagers in the multicultural Balsall Heath area of Birmingham.
As I have said on-air on New Jersey 101.5, the name UB40 comes from signing the forms for unemployment in England: "Unemployment Benefit, Form 40."  And, while that form's designation no longer exists (in that name), all of England still knows what it means...
Brian Travers saved up and bought his first saxophone while working as an electrical apprentice! He would be a founding member of UB40,  along with  Astro (Terence Wilson) on trumpet and vocals, Jimmy Brown on drums, Ali Campbell on guitar and lead vocals, Robin Campbell on lead guitar and vocals, Earl Falconer on bass guitar, Norman Hassan on percussion, trombone and vocals, and Mickey Virtue on keyboards.
A rarity in the pop music world, this lineup would stay intact for 30 years...
Before some of the band's members had really mastered their instruments,  Ali Campbell and Brian Travers promoted the band through their local contacts...and went as far as to put up UB40 posters all over Birmingham! Meanwhille, the band's signature "jazz-dub-reggae" sound (their words) was crafted, and painstakingly perfected, through long jam sessions at many locations all across town.
UB40 played in public for the first time on February 9, 1979 at "The Hare & Hounds Pub" in Birmingham...as they supplied live music at a friend's birthday party!
UB40 caught their first big break when Chrissie Hynde saw them at a pub, and invited them to be a support act for her band, the Pretenders (Pretenders were in the nj1015.com spotlight last weekend, read their story
here
).
UB40's first (British) single, "King"/"Food For Thought" was released on Graduate Records, a Birmingham independent label. It went to #4 on the UK Singles chart (1980).
The band's first album was called "Signing Off," as UB40's members were signing off from, or ending, their claim for unemployment benefits. Norman Hassan has said of the record: "if you stripped my track down, you could hear the birds in the background." This is because his tracks were recorded outside in the recording studio's garden! Crazy, huh?
"Signing Off" hit British record store shelves on August 29, 1980, and entered the UK Album Chart in October. It went to #2 in the UK, and spent 72 weeks on the UK chart.
As UB40 grew in popularity, they encouraged and supported fellow Birmingham musicians and bands, by taking them on tour (much like the Pretenders had helped a fledgling UB40).
With all the success in their native England, it was inevitable that the band would get a chance to prove itself on this side of the Atlantic.
That came with the 1983's "Labour Of Love," an album of cover songs. The album reached #1 on the British Album charts, and #8 on the Billboard 200 Album chart, here.
The album featured a cover version of Neil Diamond's "Red Red Wine."
http://youtu.be/zXt56MB-3vc
It stayed on the charts for over a hundred weeks. And, while the song went to #34 on the Billboard Singles chart in 1984...it went to #1, when it was re-released in 1988! And, is one of "Jersey's Favorite Hits!"
UB40 also scored in America, when the band teamed up with their friends the Pretenders on "I Got You, Babe."
http://youtu.be/2aP4GaAruws
The song went to #28 in 1985.
"Here I Am (Come And Take Me) brought UB40 into the 1990's, climbing to #7 on the Billbaord charts...
http://youtu.be/-AeRMrZCPGk
"The Way You Do The Things You Do" went to #6, stateside, in 1990...
http://youtu.be/2oT7kiLbhCk
And, the band's biggest worldwide hit came in 1993:
http://youtu.be/Ajp0Uaw4rqo
Their reggae/pop version of "(I Can't Help) Falling In Love With You" went to #1 in the U.S., and across Europe.  And I can truthfully say that, as a Philadelphia Top-40 jock in 1993, I began to think that the song might play in "power rotation"...forever...!
In the intervening years, UB40 has continued to tour throughout the world...
http://youtu.be/GZGk9Xxa6EE
And, has released albums of new songs...as well as greatest hits compilations.
As mentioned briefly, earlier in the story, founding member Ali Campbell announced in 2008 that he was leaving UB40. It was originally said that Campbell wanted  to concentrate on solo projects...but he later admitted that his departure was due to management and business disputes. Mickey Virtue left the band a short time later, for the same reasons.
In 2009 the band released "Labour Of Love 4," their first new album with (new) lead singer Duncan Campbell (1990's solo artist Maxi Priest had joined UB40, for their 2008 tour, and it was rumored that he would be the band's new lead singer).
Besides the departure of two founding members, there has been another recent downside to the UB40 success: In 2011, five founding members of the group, and directors of their DEP International record label, had bankruptcy proceedings started against them, due to  record label debts! They were Robin Campbell, Brian Travers, Terence Wilson (Astro), Norman Hassan and James Brown.  In October 2011, Travers, Wilson, Hassan and Brown were declared bankrupt!
All in all, it is interesting to note that UB40 is one of the most commercially successful reggae acts of all time in terms of record sales (over 70 million) to date. Also, all three of their British #1 hits, and four of their five U.S. top 10 hits are "cover versions!"
In light of the court action...what will the future bring for UB40?
They're touring across Europe right now...but remember...
The "Unemployment Benefit, Form 40" still exists...and while its called something else...
...is their re-named "namesake form" an option down the road?
Could early band history repeat itself?
(and check out the UB40 official site by clicking
here
)