Monmouth Courthouse Workers Still Wary But Business Continues
Airborne irritants that affected scores of Monmouth County Courthouse workers last week appear to be history – but several workers took health precautions that fanned jittery rumors of new problems.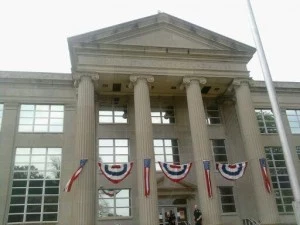 Days of testing by New Jersey and Monmouth health officials yielded no exact cause for the breathing difficulties, chest pains, allergy symptoms and more. The situation caused the courthouse to be closed for nearly a week.
PREVIOUS:
New Jersey Judiciary spokesperson Winnie Comfort tells us that two workers – "one with a heart condition" – drove to Centrastate Health in Freehold for checkups during the day.
Unconfirmed reports indicated that as many as five either visited the hospital of their own volition or were taken to it.
But, asserts Comfort, anyone else who might have gone for testing did so on their own, after the courthouse had closed for the day.
"We have triage staffers and counselors on site," she said, "and they tended to any number of people during the day. But," she added definitively, "they all went back to work."
Comfort has placed a detailed overview of the testing, results and continued precautions in the FAQ portion of the state judiciary web page, www.judiciary.state.nj.us