Many Young HIV Victims Don't Know They Are Infected [AUDIO]
Imagine having HIV and not knowing it. According to the Centers for Disease Control, more than half of new HIV cases of people ages 13 to 24 don't know they are affected. In 2010, there were 12,000 new cases of HIV reported.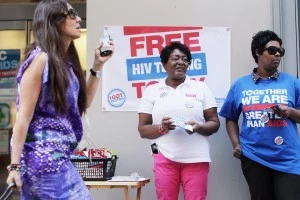 Many of them are gay, African-American or Hispanic males, who also experiment with intravenous drugs. And despite recommendations from the CDC, the American Academy of Pediatrics and the U.S. Preventive Services Task Force that everyone 15 and older receive HIV testing, many teens and young adults still do not get tested.
Jerry McCathern, Executive Director of the New Brunswick-based Hyacinth Aids Foundation, said, "The young often see themselves as indestructible. And they are experimenting with their sexuality. It scares people. They don't want to know."
He says it's important for those involved in the aids battle to convey the message that H-I-V is treatable and those who have it can manage it if they get tested and treated.
"We can and must achieve a generation that is free from HIV and AIDS," wrote Dr. Kevin Fenton, director of the National Center for HIV/AIDS at the CDC. "It will take a concerted effort at all levels across our nation to empower all young people, especially young gay and bisexual youth, with the tools and resources they need to protect themselves from HIV infection."
Audio clip: Adobe Flash Player (version 9 or above) is required to play this audio clip. Download the latest version here. You also need to have JavaScript enabled in your browser.