Denver Broncos Arrive in NJ for Super Bowl XLVIII
The AFC Champion Denver Broncos were the first team to land in NJ for Super Bowl 48 at MetlLife Stadium. They were also the first team up to the podium to give the first of many interviews leading up to Super Sunday.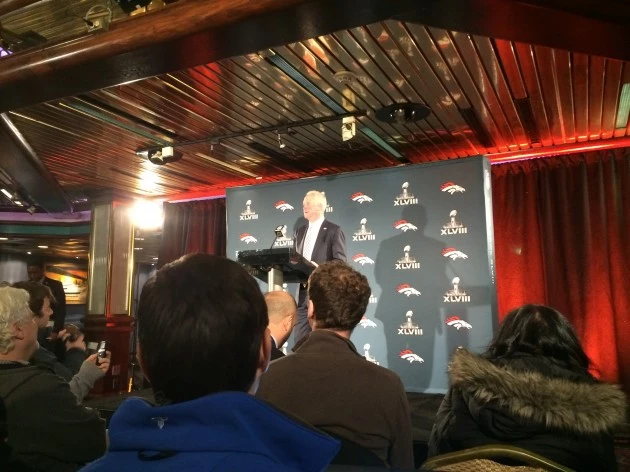 Head Coach John Fox, quarterback Peyton Manning and wide receiver Wes Welker were among members of the Broncos that met with the media on Sunday afternoon.
Coach Fox, who is no stranger to the atmosphere and the weather conditions in the Meadowlands, since he served as NY Giants defensive coordinator said it was great to be back and that the New Jersey weather has to be part of a coach's planning strategy.
"Great to be back here in New Jersey, Fox said.  When asked about the weather, Fox commented "Weather elements become part of the strategy. I spent 5 years here and I understand the way the weather here works.It's part of the game."
Coach Fox isn't the only one on the Broncos who has a little familiarity with the Meadowlands though. Peyton Manning has a little inside information of his in in the way of his brother, Giants quarterback, Eli. When asked if Peyton has gotten any helpful tips from Eli about playing in Super Bow 48, Peyton replied "Eli was helpful about playing in the stadium but couldn't help me much with Seattle.
This is highly anticipated matchup as it pits the best offense against the league's top defense. When a reporter asked about the matchup between Seattle's defense and Denver's high-powered offense Fox replied "For the fans, it's going to be an incredible mathchup."
Coach Fox was asked about his thoughts on the Giants organization and on his tenure as defensive coordinator. Coach Fox said he had fond memories of the organization and winning the championship in MetLife Stadium would mean a lot. "[The Giants] are a great organization. The Maras are a tremendous family and I look up to Coach Coughlin. It would be special to win it here."